Career Opportunity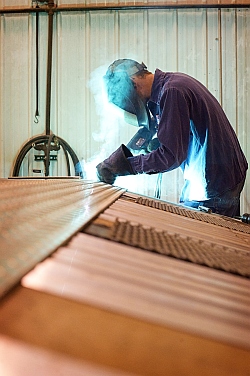 At Johnsen Trailer Sales, Inc., it is our belief and objective to provide our customers with products and service of the highest possible quality and we expect the best possible work from our employees.
We are always looking for qualified, experienced semi-trailer service technicians and parts counter salesperson with the same motivation and commitment to excellence that we strive for as a company.
This has enabled us to grow and expand in the marketplace. To maintain this philosophy requires people – people of conviction and dedication that wish to work hard, learn and prosper with success. Good communication and some computer skills are required. Welding experience for technician is a plus.
If you are interested in becoming part of our service or parts team, download the Employment Application, save it to your computer, complete it, save & print it and fax it back with your resume to 701-255-3991 or contact a manager at one of the branch locations listed below. If interested in a position as a Service Mechanic, please also complete this form Service Interview Questionnaire and include it with your application.
Bismarck location: 1-800-472-2649
For Service Technician, call Kevin. For Parts Counter Sales, call Tom
Fargo location: 1-800-246-3790
For Service Technician, call Robbie.
Employee Benefits:
We offer an excellent benefit package, which includes health, dental & life insurance, 401k, tool allowance, paid time off for vacation, holidays and sick leave. We are covered by Worker's Compensation Insurance and have AFLAC available for additional insurance options.
It is the policy of Johnsen Trailer Sales, Inc. to provide equal employment opportunity to all individuals without regard to race, color, religion, national origin, sex, age, handicap, veteran, disability, and to Vietnam Era veterans. We are committed to employing only United States citizens and aliens who are authorized to work in the United States and do not unlawfully discriminate on the basis of citizenship or national origin.