Trailer Service and Trailer Repair In Bismarck, Minot, Grand Forks, Williston, Fargo, ND, and the Surrounding Areas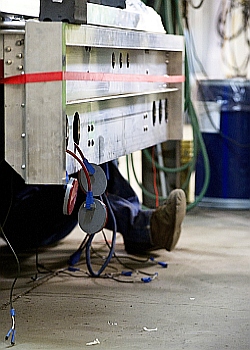 Top Quality Semi-Trailer Service
Down time is going to take money out of your pocket when you are relying on commercial trucking equipment. We take this to heart, and we get things done efficiently. Plus, we can prioritize any emergency service jobs that you may have.You make an investment when you buy a trailer, and it is important to protect this investment on an ongoing basis. When you are relying on your semi-trailer every day, wear and tear will take a toll if you don't perform the necessary maintenance. This is where we come in. Our service department can make sure that you are getting the most out of your equipment with minor tune-ups, and we can also do major repair work when it is necessary.
Johnsen Trailer Sales, Inc. is a full-service company. We sell semi-trailers that will satisfy the needs of trucking companies, contractors, farmers, ranchers, and transportation companies, and we work with the leading manufacturers in the industry. So, in addition to the sales aspect of our business, we offer a top-quality service department that is always standing by to provide you with assistance whenever you need it.
At Bismarck, call:
Service Department:
Kevin Beto – Service Manager
Bismarck, ND
Monday – Friday
7:30 a.m. – 5:30 p.m.
Toll Free: (800) 472-2649
Local: 701-255-0480

At Fargo, call:
Service Department:
Robbie Fetsch – Service Manager
Fargo, ND
Monday – Friday
8:00 a.m. – 5:00 p.m.
Toll Free: (800) 246-3790
Local: 701-282-3790
From major trailer repairs to minor tune-ups, these are some of the services that we provide for our customers:
Frame Straightening
Grain Hopper Trap Repair And Modification
State And Federal Dot Inspections
Brake Jobs – From A Minor Adjustment To Completely Rebuilding Back To New
Axle Alignments
Axle Repairs And Replacement
Aluminum And Translucent Roof Repair And Replacements
Landing Gear Repair And Replacement
Floor Repair And Replacement
Rollup Door Repair And Replacement
King Pin Replacements
Welding Of Steel And Aluminum
Custom Fabrication
Electrical Inspections And Repairs
Air Ride System Repairs
ABS Brake System Analysis And Repairs
Swing Door Repair And Replacement
Wreck Repair
Insurance Work
And Everything In Between
Roller Trap Conversion
Convert your hard to crank trap doors over to easy spin roller traps with inside side seals. This will enable you to open and close your traps with one hand operation!
*Applies to most applications, more options available. Call Kevin in Bismarck or Robbie in Fargo to set up an appointment today!
Call, request an appointment using the form below, or stop by today to see how we can help you!
Unparalleled Experience & Expertise
You can rely on our highly experienced, certified service technicians for all of your semi-trailer repair and maintenance needs. Call us at (800) 472-2649 in Bismarck or (800) 246-3790 in Fargo if you would like to speak to a member of our service team, or click here to contact us and learn more.