We offer a number of different models of Wilson hopper bottom trailers for use in and around Fargo, ND. At Johnsen Trailer Sales we are an authorized Wilson trailer seller and can help you settle on the right hopper bottom trailer for your needs. Whether you opt for the best-selling Pacesetter trailer or you want the capacity provided by our Super-B double trailer setup, you will be getting the best hopper bottom trailers made by a company that has more than 100 years in building trailers that work as hard as you do.
Contact our team today to learn what makes Wilson hopper bottom trailers some of the most desired trailers around.
Wilson Grain Trailers for Sale in Fargo, ND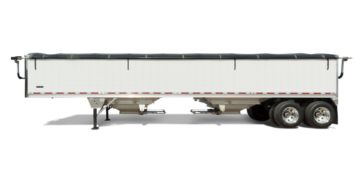 One of the most popular grain trailers that Wilson offers is the Commander grain trailer. Sporting both front and rear sloped faces, this grain trailer benefits from a kingpin design that provides support from the frame rails and has been used for nearly 40 years. This model features one of the industry's easiest opening traps to make emptying your grain trailer fast and easy.
Each of our grain trailers also offers a number of enhancements that make them even more desirable and functional. These can be as simple as different colors for the side walls to as helpful as left suspensions to provide you options when it comes to load weights and needs. All of these different options provide a way to make sure that your grain trailer is designed for your specific needs and concerns.
Wilson Hopper Bottom Trailers and Grain Trailers for Sale in Fargo, North Dakota
Wilson hopper bottom trailers and Wilson grain trailers are built to make moving different kinds of materials easier and faster than ever before. From getting the grain out of the field and to storage or production facilities to helping move building materials and fill, our trailers provide the needed transportation needs that businesses in Fargo, North Dakota rely on. Our team at Johnsen Trailer Sales can help you get the right Wilson trailer to fit your needs.
Wilson trailers offers the right options for nearly any operation. During the 1880s, Fargo became the "divorce capital" of the Midwest because of lenient divorce laws. Fargo has continued to expand rapidly but steadily. Since the mid-1980s, the bulk of new residential growth has occurred in the south and southwest zones of the area due to geographic constraints on the north side. Contact us today with your hopper bottom or grain trailer needs.