There are a number of different grain trailer manufacturers available in Bismarck, ND so it is important that you understand what you need in your grain trailer. At Johnsen Trailer Sales we offer Wilson grain trailers which have been industry-leading trailers for decades. This is because they offer solid construction of their grain trailers as well as offering a number of options to add to the trailers to really make them work for your needs. Whether you are hauling potatoes, corn, or any other material, Wilson grain trailers offer the right combination of features to make them your go-to grain trailer.
Contact our team today to learn more.
Wilson Hopper Bottom Trailers for Sale in Bismarck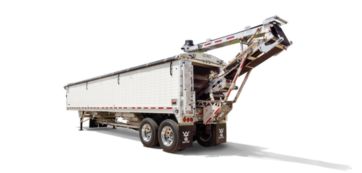 Whether it is used in road building or making a new neighborhood, hopper bottom trailers are great for transporting needed materials. Wilson hopper bottom trailers are the perfect solution whether you are transporting sand, gravel, or other materials. These workhorse trailers provide a number of options that can make a difference in how you move materials as well as how those materials are removed from the trailer itself.
One interesting option that Wilson offers is their Agrilite by Gem-L, which pairs their popular Pacesetter hopper bottom trailer with the addition of a conveyor system to provide for faster materials movement. Additionally, because this conveyor is on the back of the trailer it provides an alternative distribution rather than just out the bottom of the trailer. These conveyors can also be removed so that it can be used as a traditional hopper bottom trailer as well.
Wilson Hopper Bottom Trailers and Grain Trailers for Sale in Bismarck, North Dakota
The Wilson hopper bottom trailers and grain trailers, including their varieties that offer a conveyor belt to offload at the back of the trailer or an elevator conveyor to deposit material in different locations, are well-designed and offer many options that continue to keep these trailers on the short list of desirable trailers in Bismarck, North Dakota. At Johnsen Trailer Sales we help keep things moving, whether working with a construction company, a farmer, or a transportation company. When you are in the market for a new grain or hopper bottom trailer, call the experts.
In 1873, the Northern Pacific Railway renamed the city Bismarck in honor of German chancellor Otto von Bismarck. Railroad officials hoped to attract German immigrant settlers to the area and German investment in the railroad. Reach out to our team today and have us find the right Wilson trailer for your needs.