It could be large culverts or pallets of lumber, concrete sewer segments, or electrical substation devices, but they all need to be hauled in and around Fargo, ND. Wilson flatbed trailers are one of the most popular flatbed trailer options that we at Johnsen Trailer Sales deal with. And the kind of loads that are being transported are as varied as you can imagine. From trans modal containers to construction materials to components for a large crane and more. Whatever your hauling needs might be, make your first call to our team to get you a Wilson flatbed trailer.
Wilson Step Deck Trailers in Fargo, ND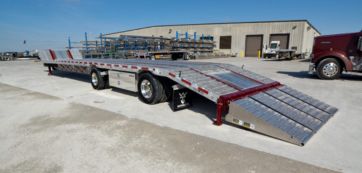 The Wilson step deck trailers are the cousin to their flatbed trailers. These trailers are sometimes referred to as low-boy trailers because most of the deck of the trailer is much lower to the ground than a traditional flatbed trailer. While these trailers can be used like flatbed trailers to haul a wide range of cargo, they are beneficial when a load is tall and clearance is an issue.
Step deck trailers are used a lot in transporting large construction equipment that cannot be on the road. Heavy equipment such as excavators, front-end loaders, cranes, and other large construction equipment needs to be transported from job site to job site, and they are either tall, long, or both. Wilson step deck trailers provide additional clearance when trailering while having a lower bed eases the loading and unloading of the equipment.
Wilson Flatbed Trailers and Step Deck Trailers in Fargo, North Dakota
Transporting large amounts of freight, to or from job sites, agricultural equipment that can't otherwise be on the road, oversized loads, and more is vital to the economy of Fargo, North Dakota and the surrounding areas. You can't go wrong with a Wilson flatbed trailer or step deck trailer when you need to move very large items. Contact our team at Johnsen Trailer Sales and let us know what things you are looking for in your next trailer.
When you need to move a lot of cargo, a Wilson flatbed or step deck trailer is the answer you are looking for. Fargo's founding dates back to 1871, when the first settlers staked out homestead claims at the point where the Northern Pacific Railroad would cross the Red River. But Fargo grew rapidly as more and more settlers arrived, drawn by the promise of cheap, fertile farmland in the Red River Valley. Contact our team to help you get the right trailer for your needs.