6 Things to Check While Availing Used Trailers
Johnsen Trailer Sales provides used trailers in and around Fargo, ND, Grand Forks, Jamestown, Bismarck, ND, Minot, annd Williston.
When availing a used trailer, it's crucial to thoroughly inspect the trailer to ensure it's in good condition and meets your needs. Here are six important things to check:
Structural Integrity: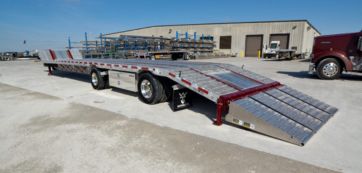 Check the frame, chassis, and overall structure for signs of rust, corrosion, cracks, or welds. Look for any evidence of accidents or damage. A solid frame is essential for safe towing and longevity.
Tire Condition:
Inspect the tires for wear, cracks, and bulges. Check the tread depth and make sure all tires are of the same type and in good condition. Uneven wear could indicate alignment or suspension issues.
Suspension and Axles:
Inspect the suspension components and axles for signs of wear, damage, or rust. Ensure the suspension operates smoothly and the axles are properly aligned.
Braking System:
Test the braking system thoroughly. Check for responsive and evenly distributed braking. Make sure the brake lights are working properly, and inspect the brake pads, rotors, and brake lines for wear and leaks.
Lights and Electrical System:
Test all the lights – brake lights, turn signals, reverse lights, and running lights. Ensure the electrical connections are intact and functional. Faulty lights can lead to accidents and legal issues.
Cargo Area and Safety Features:
Inspect the cargo area for any damage, dents, or signs of wear. Check the trailer's safety features such as safety chains, tie-down points, ramps (if applicable), and any additional features specific to the type of trailer you're getting.
Remember to also ask the seller for maintenance records, service history, and any relevant documentation. It's a good idea to bring along a knowledgeable friend or a professional mechanic to help you with the inspection, especially if you're not experienced with trailers. A comprehensive inspection will help you make an informed decision and avoid potential problems down the road. Please call us without hesitating further.