Whether you are looking for a grain trailer, flatbed trailer, livestock trailer, or another trailer in Grand Forks, ND you can opt for buying a new trailer or you can look for used trailers. New trailers are nice, but with the use that they will see they don't stay new for long.
At Johnsen Trailer Sales, we can help you find the quality used trailers that you need, and we can also help you to order that new hopper bottom trailer that should last you for many years to come.
Contact us today to find out what used trailers we have in stock.
Grain Trailer Sales in Grand Forks, ND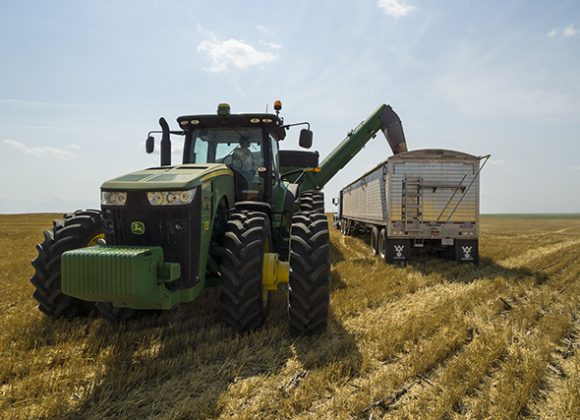 When your mind is on grain trailer sales, you want to find the right trailer that will serve you for years without breaking down. Different features may be important to you depending on what you need in your grain trailer. If being conspicuous is important, you will definitely want to look for hopper trailers for sale that feature LED lighting, which allows greater numbers of lights to be added for greater visibility on the road.
You may also want an electric tarp for coverage of your grain trailer. This can make things faster and easier on your drivers and ensure that the tarp is fully over the trailer before hitting the road. Some hopper trailers even feature a window in the side to allow for an easy review of the load height in the trailer.
Used Trailers in Grand Forks, North Dakota
Because we have been in business for over 50 years, we have become the default trailer dealer in the Grand Forks, North Dakota region, not only for new trailers but also for used trailers. Hopper bottom trailers for sale often include many quality used options and this beats paying top dollar for a new trailer. We also have a selection of livestock trailers, flatbed trailers, and more. No need to go searching all over for your next used trailer, just contact our team at Johnsen Trailer Sales and let us find you just what you need for your farm or business.
Grand Forks is the third-largest city in the state of North Dakota (after Fargo and Bismarck) and the county seat of Grand Forks County. Initially dependent on local agriculture, the city's economy has since broadened to include a wide variety of industries, including higher education, defense, health care, manufacturing, food processing, and scientific research. The United States acquired the territory from British Rupert's Land with the Treaty of 1818, but indigenous tribes dominated the area until the late 19th century.