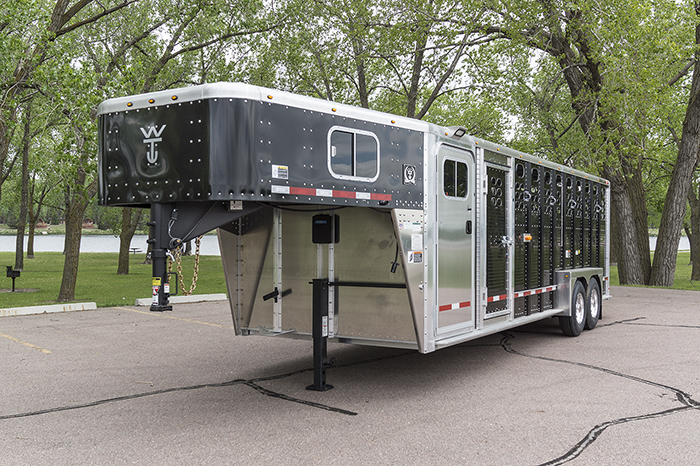 No matter where you go in Williston, ND you will see semi-tractor trailers of all kinds, new and used, moving all over. These trailers help local businesses accomplish their goals, and at Johnsen Trailer Sales we provide our experience when it comes to used trailer sales and finding just the right trailer for the job. From livestock trailers to move cattle, hogs, and other animals, to flatbed trailers that help move heavy construction equipment between jobs, to hopper trailers and belt trailers that help move food and feed from the farm to the production mills, and more, we have contacts all over that we can use to find you the right used trailer for your needs. Contact us today to put our network to work for you.
Used Trailers for Williston
We all would like to have shiny new equipment, but the truth is that brand-new equipment is expensive. Used trailers, however, still have a lot of life left in them and can be an economical option to either replace an aging trailer you have or to expand your fleet. Used trailers can also fill a possible need that you may have with your business but you may not use it fully yet as you aren't sure if you can have enough business to make it worthwhile.
Working with our team for used trailer sales means that we will keep on the lookout for the right trailer that you are looking for. We can look for a grain trailer that has a fully automatic cover system, or a hopper trailer with automatic door hatches. Whatever kind of trailer you are looking for, we can find it in good condition for you.
New or Used Trailer Sales in Williston, North Dakota
Buying a trailer for your truck or transport company is a big investment, and having us be your used trailer sales contact will open up many opportunities to find the right trailer for your needs without breaking the bank. No matter if you're a farmer, rancher, in the construction industry, have a trucking company, or any other business that needs trailers, you want to find the best trailers for your needs in Williston, North Dakota. Our team at Johnsen Trailer Sales can help you find these trailers when you contact us.
Let us help you find the right trailer for your hauling needs. Situated at the confluence of the Yellowstone and Missouri Rivers, Williston, North Dakota, covers 23 square miles and is the county seat of Williams County. It is home to over 200 oil service companies. Several of the top ten oil service companies in the world have operations in Williston. Talk with our sales team today about your needs and we'll work to find you the right used trailers.