Whether it's due to your expanding business or you just want to get a more reliable and useful trailer in your stable, you want to work with a trailer sales business in Dickinson, ND, that knows what they are talking about. Give a call to our sales team at Johnson Trailer Sales and we'll help to find the right trailer for your needs. Whether you are looking for a quality used trailer or you are investing in a new trailer, we have all kinds of grain, hopper, flatbed, livestock, and other trailers. Call us today to put us on the case for your trailer sales needs.
Hopper Trailers for Sale and Other Used Trailers in Dickinson
Because of our decades of experience in both trailer sales as well as repairs and service, we have an extensive network of contacts. This allows us to be able to source a wide selection of used trailers that we can inspect and certify as roadworthy in our facilities. Used trailers can be economical when you need to expand your fleet of trailers. Whether you are looking for a hopper trailer for sale, a flatbed to haul other machinery, or other kind of trailer, the team at Johnson Trailer Sales will work with you to find what you need in Dickinson, ND. Call us today and let us know the kind of trailer you are looking for.
Grain Trailer Sales, Livestock Trailer Sales, and More in Dickinson, North Dakota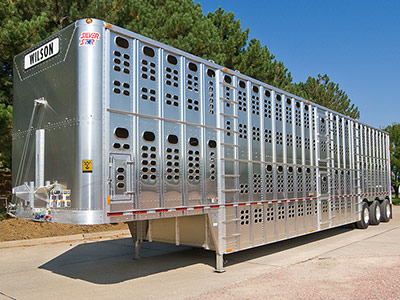 With the different farming that is done in our region, having quality grain trailers is an absolute must. We can help with grain trailer sales and find you the right trailer for your needs. The latest in grain trailers feature LED lighting and come in a variety of sizes to best meet the needs of haulers, growers, and processors.
Livestock trailer sales are another important trailer service that we offer. From transporting cows, horses, pigs, or other livestock, having the right trailer is important to the safety of the driver as well as the livestock being transported. You will also want to consider the different options that will come from different manufacturers, such as lower entrance thresholds, easier cleanout after hauling, and more.
Proudly Serving Dickinson, ND
Dickinson is considered the gateway to the Theodore Roosevelt National Park and its many recreational opportunities. Due to this strategic location, and the resulting regional social and economic influence, it was known for decades by the nickname "Queen City of the Prairies." As Dickinson is also the gateway to the great American West, Medora, and Theodore Roosevelt National Park, it has also been branded by its modern nickname: "The Western Edge."