5 Things to Know About Trailer Sales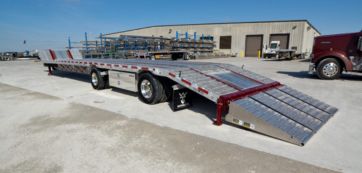 Trailer sales can vary depending on the type and purpose of the trailer, but here are five important things to know about trailer sales in general. Johnsen Trailer Sales provides trailer sales in and around Grand Forks, Minot, Jamestown, Dickinson, Williston, and Watford City.
Types of Trailers: There are various types of trailers available for sale, including utility trailers, enclosed trailers, flatbed trailers, car haulers, boat trailers, and more. It's essential to understand the specific type of trailer that suits your needs before making a purchase.
Trailer Size and Capacity: Trailers come in different sizes and have varying weight capacities. It's crucial to know the weight and dimensions of the items you intend to transport to ensure that the trailer you choose can handle the load safely and legally.
Trailer Hitch and Towing Requirements: Your vehicle must have a compatible hitch and meet the towing capacity requirements for the trailer you plan to purchase. Ensure that your vehicle is equipped to safely tow the trailer to avoid any accidents or damage.
Regulations and Licensing: Trailers are subject to various regulations and licensing requirements, which can vary by location. Make sure you understand the legal requirements for trailer ownership, including registration, licensing, and compliance with safety standards.
Price and Financing: Trailer prices can vary widely depending on the type, size, and features. Compare prices from different dealers, and consider your budget and financing options. Some dealers may offer financing or leasing options to make trailer ownership more accessible.
Before making a trailer purchase, it's important to thoroughly research and understand your specific needs, local regulations, and financial considerations. This will help you make an informed decision and ensure that your trailer meets your requirements safely and legally. Please call us without hesitation.