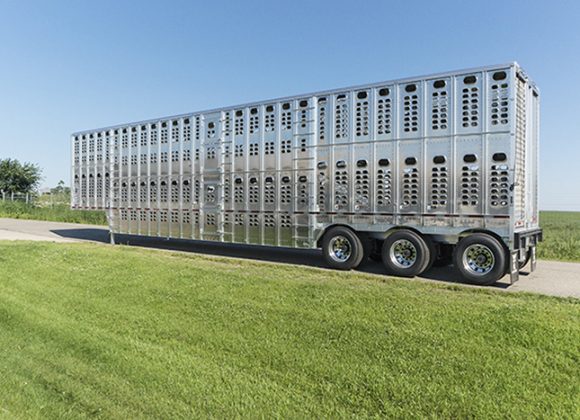 Whether you are looking for a new trailer from Wilson, Talbert, Muv-All Low Boy, or other manufacturers, or you are looking for a quality used trailer, you want to work with someone that has experience. Our team at Johnson Trailer Sales can help you find the right trailer that you need, from livestock trailer sales to hopper trailers for sale and more. We work with the major manufacturers of new trailers and have an extensive list of contacts for a range of used trailers, so we can get you the trailer that you're looking for. Contact us today to learn more.
Livestock Trailer Sales and Grain Trailer Sales in Watford City
From corn to wheat and a host of other grains, the use of grain trailers at harvest time is large. Using our connections we can find you the right-sized grain trailer for sale that will complement your fleet. With new grain hopper trailers, there is a lot that is now automated such as the trailer covering, hopper doors, and other things to help increase the efficiency of your team.
Livestock trailers need to be able to accommodate the animals that you are transporting, from smaller pigs to larger cows. We'll work on your behalf to locate the right livestock trailer that will keep the wheels turning.
Hopper Trailers for Sale and other Used Trailers for Watford City, North Dakota
Sometimes getting a new trailer isn't in the cards, whether due to cost or that the one you are needing won't be available when you need it. A quality used trailer can fit the bill while saving you money. Whether you plan for long-term use for it or as a stop-gap solution before your new trailer arrives, getting a used trailer will keep you in business in Watford City. Call our sales team at Johnson Trailer Sales and let us know what kind of trailer that you need, and we'll go out and find it for you.
Long before Watford City became the epicenter of the state's energy boom, it was the center of activity between the North Unit of Theodore Roosevelt National Park and Williston. Village officers were elected in 1915, and they concerned themselves with such tasks as impounding stray horses and cattle, prohibiting swine and chickens from town, locating hitching posts, and removing hay stacks from Main Street. The town had a band and baseball team from its founding.