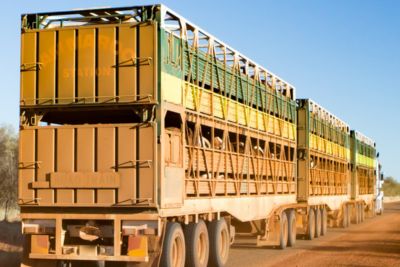 At some point when you own different livestock, from cattle to horses and other animals, there will arise the need to transport them somewhere. This requires that you have the right livestock trailer for your needs, and that means making the call to our livestock trailer sales team at Johnsen Trailer Sales. Whether you opt for a gooseneck trailer to use with your pickup truck or you go for a semi-trailer version, there are several things to keep in mind for your livestock trailer, the most important being the kind of animal that you are transporting. Talk with our team to learn more about what is available near Jamestown, ND from the manufacturers that we work with.
Livestock Trailers in Jamestown
Not all semi-trailer livestock trailers are made the same, and for good reason. The size of the animals that you may be transporting are not all the same size. There are models that work well for cattle and calves, some that are just for cattle, while others can be set up for hogs or sheep. Often these trailers can have several levels to them so it maximizes the space in the trailer without being too tall to go down the highways.
For ranchers and riders that have smaller needs, there are gooseneck trailers that provide ample room for animals as well as the associated tack and gear that are needed. These trailers are commonly seen as various animal shows, fairs, auctions, and more. Available in multiple lengths these gooseneck trailers offer the right size needed for safe transport of animals for any needs.
Used and New Cattle and Livestock Trailer Sales for Jamestown, North Dakota
Livestock trailers are a need for many different reasons. Investing in a new livestock trailer is an investment in your future business, whether that's hauling animals for ranchers and farmers to market or bringing your prized horses to a show in Jamestown, North Dakota. Used livestock trailers are economical options that provide a lot of utility for less money. No matter what kind of livestock trailer you need, our team at Johnsen Trailer Sales can find you the right option.
Livestock is important to many in this area, and transporting that livestock is important as well. Jamestown was founded in 1872 and General Thomas Rosser of Northern Pacific named it after Jamestown, Virginia. The city was incorporated in 1883. Summers can be warm and quite humid, but the winters are very cold with snowfall as early as October. Contact our team today about your livestock trailer needs.