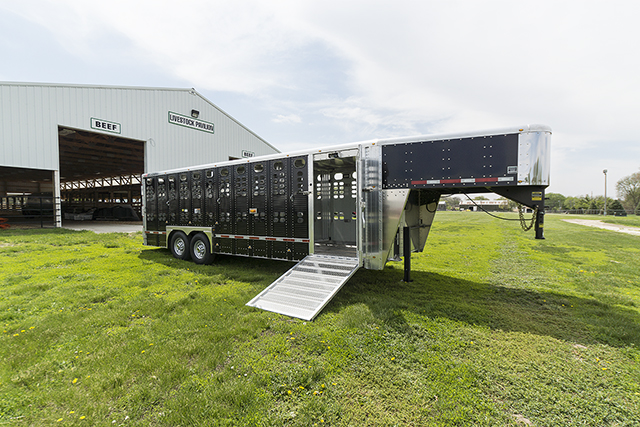 Sheep, hogs, cattle, horses, and more are all important for farmers, ranchers, and others. All of these animals need to be transported from time to time, and to do so safely requires the right livestock trailer from Johnsen Trailer Sales near Dickinson, ND.
Whether you need a semi-trailer to move all of the animals that you have or you want a smaller gooseneck trailer to bring a select few animals to a fair or auction, we can help you find the right livestock trailer to fit those needs. It is important to know what features you need to accomplish your goals with your livestock, and we will help you find the trailers with those features. Contact us today for both new and used livestock trailers that fit your needs.
Cattle and Livestock Trailers in Dickinson
When you have special animals on your farm, such as a prized riding horse, in order to bring them to different places you need to have the right small livestock or horse trailer. Along with space for the horse, you will also want to have space for the tack needed for trail riding, gear for yourself such as a chair and other items, plus space for feed for the horse and other items. In this part of the country, there are plenty of different used and new options to choose from.
On the larger end are the semi-trailers for livestock when you have the need to transport animals between farms or bring them to market. Similar to the smaller animal moving trailers, these larger ones can be outfitted internally for a number of different animal sizes, from the larger steer and cattle to the smaller sheep and pigs. Plus these trailers are built to last for years with the design features and construction.
Used and New Livestock Trailer Sales near Dickinson, North Dakota
With the number of farms and ranches in and around Dickinson, North Dakota, as well as the rest of the region, it is no surprise that you will see a lot of livestock trailers moving around. If you are looking for a brand new livestock trailer we have connections with some of the best manufacturers to get you what you need. If you are looking for an economical option to add to your trailer fleet, Johnsen Trailer Sales can help you find the right used trailers for your needs.
We have been helping farmers, ranchers, and transportation companies get the right livestock trailers for more than 60 years. By 1873, the Northern Pacific railroad survey crews were in the region scouting potential routes to build the tracks west, connecting Duluth, Minnesota with Puget Sound, in Washington Territory. The city of Dickinson has more than lived up to its original name. It began as "Pleasant Valley Siding" when the Northern Pacific Railroad reached this point in a wide valley on the Heart River, halfway between the Missouri River and the Montana Territory border. Contact us today and find out why we have been successful for generations.