In this part of the country around Dickinson, ND, and beyond, farming is a major part of the economy. And with farming comes the inevitable harvest time where it seems that it all comes in at the same time. With such large amounts of grain and other farm products, it is important that you have the right equipment to handle it all.
Our team at Johnsen Trailer Sales can help you find all of the rights used trailers, hopper trailers for sale, grain trailer sales, and other important equipment that will make things right smoothly and efficiently.
Contact us today to find out what we have in stock to fit your needs.
Hopper Bottom Trailers for Sale in Dickinson, ND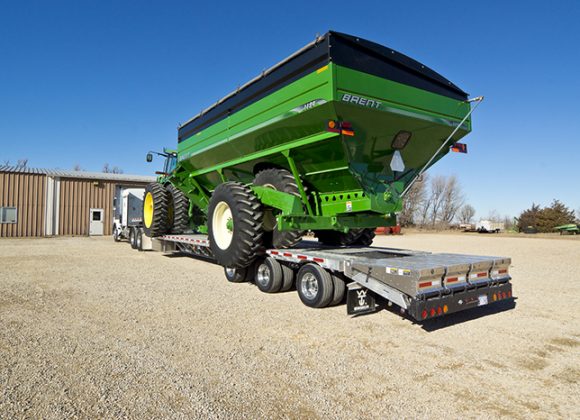 One of the easiest and fastest ways to transport your grain from your harvester to the grain elevator or elsewhere is with a hopper bottom trailer. With the top of the trailer being wide open, it makes it easy to fill quickly, and the hoppers underneath the trailer allow for quick emptying of the trailer for delivery to a processing facility or to a storage facility.
When you are looking for hopper bottom trailers for sale give our team a call. We have been helping farmers and businesses for more than 50 years by not only getting the right trailers for their needs but also keeping those trailers on the road with our maintenance facilities.
Used Trailers in Dickinson, North Dakota
It isn't just the grain trailer sales that we do at Johnsen Trailer Sales. We also carry flatbed trailers that allow you to transport that equipment that just can't be on the roads or need to be taken in to be serviced. We also have livestock trailers for the different livestock that you may need to move around, including cattle, sheep, pigs, and other animals. And of course, we have a variety of used trailers for sale along with new trailers in Dickinson, North Dakota. Contact our team today at Johnsen Trailer Sales to have us help you find the right trailer.
It began as "Pleasant Valley Siding" when the Northern Pacific Railroad reached this point in a wide valley on the Heart River, halfway between the Missouri River and the Montana Territory border. As Northern Pacific construction crews pushed westward, a way station was set up along the tracks at Pleasant Valley Siding. Dickinson was chosen as a division point by the Northern Pacific because of its central location between Bismarck, North Dakota, and the Montana border.