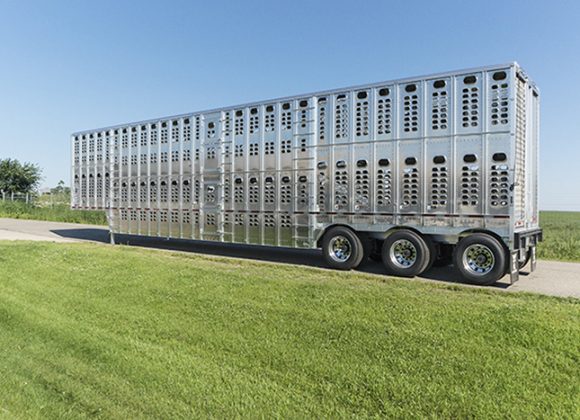 Cattle trailers are called this because they are primarily used to transport cattle, but they can be adapted to haul other kinds of livestock. Finding these trailers in Dickinson, ND, whether new or used, can sometimes be a chore, but when you work with Johnsen Trailer Sales we will tap our expansive network to find you just what you need. Whether you need to haul a dozen cattle or a double-decker semi-trailer for your animal needs, we can find just the right cattle trailer for sale. Contact us today to learn more and put our decades of experience to work for you.
Cattle Trailers for Dickinson, ND
If you haven't required a cattle trailer before, then you may likely be overwhelmed with the different options that you have available. Some trailers can handle a handful of animals ones that can hold a hundred or more animals, depending on the species that you are hauling. The larger the trailer the larger the truck you need to haul it. The largest trailers require a semi-truck to handle all of the weight.
You must have the right-sized trailer for your needs. For example, if you have a trailer that can haul 24 cattle but you only have 18 cattle to transport, there will be too much room between them which can cause them to get injured during transport. On the other side adding too many cattle into too small of a space can cause issues as well. Match your cattle trailer needs to what you have.
Used and New Livestock Trailer Sales in Dickinson, North Dakota
No matter what size livestock trailer you need, we can find you cattle trailers for sale in and around Dickinson, North Dakota. We work with major manufacturers of cattle trailers and can find you a new trailer if that is what you are after, or we can work with our network of trailer owners to find you an economical cattle trailer to add to your stable of trailers or to replace an aging trailer that no longer works for your needs. Contact us at Johnsen Trailer Sales and we will work with you to find you the cattle trailer that you need.
Whenever you need to haul your animals, be sure that you have the right-sized cattle trailer for your needs. Dickinson was chosen as a division point by the Northern Pacific because of its central location between Bismarck, North Dakota, and the Montana border. The name "Dickinson" was chosen to replace the name "Pleasant Valley Siding" and a post office was established on October 6, 1881. Dickinson became an established city in 1883. Its first mayor was Dan Manning. Talk with our team about all of your cattle trailer needs.