What would your Jamestown, North Dakota business look like if you could have personalized fuel delivery for the various heavy equipment you use directly at the job site? What about being able to add DEF fluid whenever you need it, or to do quick oil replacement or hydraulic fluid additions?
With the Thunder Creek Equipment trailers from Johnsen Trailer Sales, these can be a reality for your business, and they won't break the bank either. Their line of multi-tank fuel trailers, multi-tank oil trailers, and service and lube trailers will change the way your business operates.
Contact our team today to learn more.
Multi-tank Oil Trailers in Jamestown, ND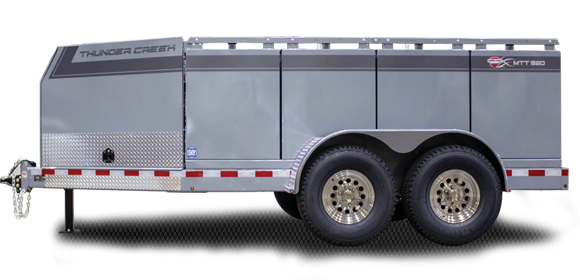 The more machinery that you have on one or more job sites, the more important it is that you have the right fluids on hand to ensure that they are all ready to go. With the multi-tank oil trailers from Thunder Creek Equipment, you now have a convenient way to bring oil, DEF fluid, grease, coolant, and other necessary fluids right to the job site to service your heavy equipment.
This multi-tank oil trailer even has the ability to reclaim used oil in a separate tank, making oil changes, filter changes, and other oil-related services easy to clean up. It also features a separate air compressor system to give you compressed air when and where you need it, as well as an integrated grease system to keep the lubrication system on your equipment working as it should.
Fuel Trailers for Sale in Jamestown, North Dakota
These different fuel trailers for sale from our team at Johnsen Trailer Sales have proven their worth in a variety of settings in Jamestown, ND, and beyond. Farmers can enjoy quick refuels of tractors and other equipment while also providing other necessary fluids to keep the planting and harvest going smoothly. Construction companies can prep their equipment before the operators arrive so that they can get to work right away, and it makes servicing equipment faster by bringing the right fluids right to the equipment along with tools and other gear.
Learn more about these time-saving trailers by contacting the professionals at Johnsen Trailer Sales.
In 1871, a Northern Pacific Railroad work crew set up camp where the railroad would cross the James River, adding another section to the new northern transcontinental line. Jamestown was founded in 1872 and General Thomas Rosser of Northern Pacific named it after Jamestown, Virginia. In 1873, Stutsman County became the first official county within Dakota Territory with Jamestown as the county seat. The city was incorporated in 1883.