Finding people who not only have a CDL but who also have a hazmat endorsement in Dickinson, ND is getting harder and harder, and the equipment to transport large amounts of fuel, oil, and to provide service to other large equipment is also expensive. But things don't have to be so difficult and our team at Johnsen Trailer Sales now offers great options from Thunder Creek Equipment that includes multi-tank fuel trailers, multi-tank oil trailers, as well as service and lube trailers.
Contact us today to learn more about these convenient and affordable fuel trailers for sale.
Fuel Trailers for Sale in Dickinson, ND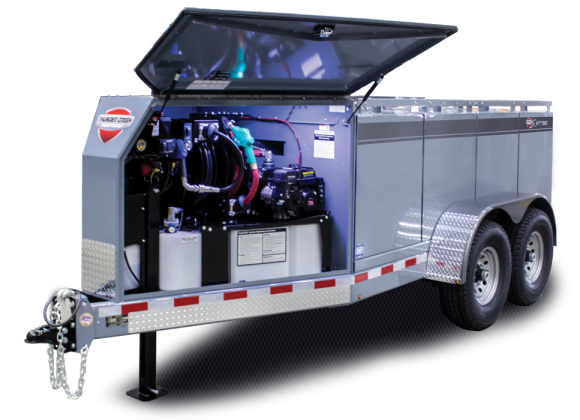 The Thunder Creek fuel trailers for sale will allow you to provide fuel delivery where you need it, when you need it, without having to wait for a fuel delivery service that can only provide you with a window of time when they will be there. Because these trailers have non-bulk fuel tanks that are below 119 gallons in size, the person hauling the trailer will not have to have a CDL.
You can have diesel fuel in several of the tanks, unleaded fuel in another tank, and the fuel trailers for sale can even have a DEF fuel tank so that you are fully equipped to properly fuel the equipment no matter what time of the day or night in Dickinson, ND.
There are also places for other accessories including drawers for fuel additives you may want to have, rags or towels, an air compressor, and more.
Multi-tank Oil Trailers in Dickinson, North Dakota
Like the multi-tank fuel trailers, the multi-tank oil trailers from Thunder Creek Equipment can be very helpful when servicing heavy equipment and ensuring that they are ready to go when the operators arrive. With multiple tanks, you can have either a lot of a single kind of oil or you can have multiple weights of oil with you. Additionally, there are tanks for used oil to be recycled with associated vacuum hoses to keep things neat and clean.
Contact the team at Johnsen Trailer Sales to learn more about all of the Thunder Creek fuel trailers and oil trailers for sale.
Dickinson was founded in 1881 and was named for its founder, W. S. Dickinson, a native of Malone, New York. Due to the strategic location, and the resulting regional social and economic influence, it was known for decades by the nickname "Queen City of the Prairies." As Dickinson is also the gateway to the great American West, Medora, and Theodore Roosevelt National Park, it has also been branded by its modern nickname: "The Western Edge."